3 Ways to get an Audition
Aug 08, 2021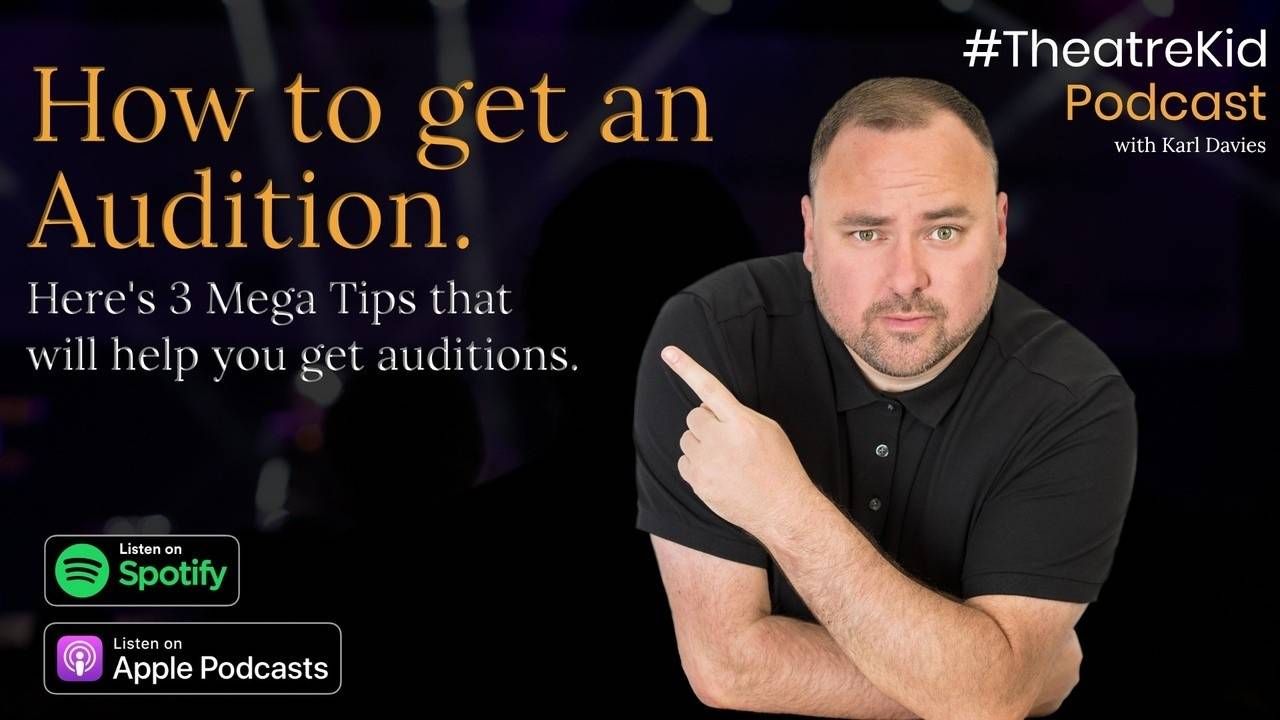 You can find more podcast episodes by clicking here.
---
Working in the entertainment industry is really tough, there is so much competition. However, there are some things that you can do to make yourself a lot more employable.
Let's start with the first one.
Spotlight
The casting website spotlight is the industry standard when it comes to casting. You'll find 99% of professional productions will advertise their casting calls there.
A basic breakdown of how Spotlight works is that it has 3 different profiles.
1 for Casting Directors / Producers

1 for Agents

1 for clients / performers
The casting directors create the job advertisement or audition opportunity and through spotlight. They send out the details of the job and what they're looking for, to the agents, and they can also choose to send it to the clients as well.
You'll find that the bigger projects will only send the job description to certain agents, people they have worked with previously and the producer trusts that the quality of the clients from these particular agents will consistently be good. This means their casting team doesn't have to scan through thousands of submissions from clients and lesser-known agencies.
If you're hoping to audition for Les Miserable one day then you'll probably need to be with a reputable agency, someone that has had clients in the show before. However, there are plenty of opportunities for clients of smaller agencies and also for those members without an agent. Either way, if you have ambitions of working professionally, you're going to need a Spotlight profile.
It's not possible for parents to create a spotlight account for young performers, this needs to be done through an agency or through your theatre or dance school. There are other services like 'The Stage', 'Backstage', 'Mandy' and countless Facebook groups but 'Spotlight' is the industry standard
By signing up to 'The Academy' at MyTheatreSchool.com you'll have access to tips and tricks on how to make your spotlight profile stand out in what is a very tough industry, we'll show you the traffic light system and exactly what the casting directors see, you can find that at MyTheatreSchool.com
---
The second mega tip is:
Your Reputation
I've booked so many people onto projects simply because they have a great reputation. Talent is only half of the battle, if you're an idiot, people are not going to want to work with you.
I was casting a European Tour a few years ago and the female soloist role was very specific. She had to have the ability to sing a series of songs that would be tough for anyone. At the London auditions, this girl came in and she blew the audition panel away, she had everything that I was looking for. I had a scan of her CV and saw that she had worked on a project with one of my very good friends, someone I trusted. I gave him a call to get an insight into what she's like to work with and his response was - "She is super talented but difficult to work with". I checked in with a couple of other guys and it was a similar story. For that reason, she didn't get the job. Her reputation stopped her from getting the job.
It also works the other way around. Early on in my career, I worked with a guy called Josh at Butlins. His voice was stunning, he could move really well and everyone in the cast loved and respected him. Fast forward a few years and I'm casting the 12 Tenors. The cast we had put together was ridiculous, it was full of West End leading men such as Bradley Jaden, John Ellis, Richard Munday. Craig Whiteley, Gavin Alex, Matt Goodgame, Adam Bayjou, and Rob Houchen have also done the job, but this particular year we needed another person and I knew that Josh was perfect for the job. Some people had doubts though because the rest of the team had West End credits and Josh was a Butlins boy but I went ahead and booked him on the project.
Josh went on to blow everyone away with his incredible talent, he has since toured the world, and 7 years later, he is now the choreographer and project manager for The 12 Tenors. Taking a gamble on someone based on reputation alone has rarely let me down. In fact, I've experienced more disappointment with people who have auditioned well but didn't produce the goods on tour than I have when booking people based on their good reputation.
I've received phone calls from top casting professionals asking for my opinion on people who have worked with me in the past. If they have a good reputation, they'll definitely bring them into the audition room, if not, then it's unlikely they'll see you. And these casting professionals have people in every corner of the industry, they'll know someone who knows you. So one of the main pieces of advice I offer to all of my students is to be nice and go above and beyond with everything you do.
---
And my last mega tip is:
Gamble
Put yourself in the shoes of the casting team. Think about how complicated and time-pressured their job is, it's not easy as they're dealing with multiple projects and seeing hundreds of profiles every day.
As the big audition day approaches, things change. 2 days before audition day the casting company will be receiving cancellations. People who can't make it because they're ill, or they've been offered another project. The casting team does not want an empty schedule, it makes them look bad if the casting director is sat there doing nothing because there is a gap in the schedule.
So gamble just in case they have a gap they need to fill. They could go through the hundreds of submissions they've received or, if they've just received your email telling them how awesome you are then they might just put you in as it's convenient for them. Make sure you bring your 'A Game' though, they'll know that you've blagged your way into the audition room, and they'll probably respect you for it, but if you get it wrong then they're going to remember you as a 'blagger' which isn't great for your reputation.
Never lie, don't tell them that you have skills that you don't have. If you turn up to the audition room and you're not what you've said you are because you've lied on your CV or you look completely different from your headshot, then you're going to be remembered for that and it's likely they will not call you in again for any other project.
So, to recap… 3 ways to get an audition are:
Have a spotlight… everyone who takes themselves seriously in this industry has a spotlight. Unless you're so famous you don't need one.




Be nice to everyone… your reputation will haunt you throughout your career if you're not nice.




Gamble… If you manage to get the email address of the casting team, don't waste your first email to them. Be tactical and pick the right time to contact them. First impressions are everything so don't waste this opportunity.
This is just a tiny insight into some of the incredible resources available to you at The Academy at MyTheatreSchool.com Take a look at the website to see what's available, you'll have instant access to some incredible industry professionals with singing, dance, and acting courses, all focusing on musical theatre. You could dramatically improve your skills and techniques simply by downloading our app and teaching yourself everything you need to know.
For more details go to: My Theatre School